What's New For The 2023 Toyota Camry?
Nobody would argue that the Toyota Camry is among the most reliable models on the market. But with a few changes coming in 2023, it's worth wondering what exactly will happen with its formula. And while, at first, blush, these updates might seem like a variation on a theme, they'll significantly impact how people use and think about this vehicle.
Coming in 2023 is the first significant update to the Camry in almost half a decade, which will be slightly longer than the typical three-year refresh cycle that most cars and trucks go through. Still, when you look at what Toyota has planned for this vehicle, it's clear that they're just adding some new amenities and improvements to help better fit customer needs.
What Are The 2023 Camry Trims And Features?
On the outside, the 2023 Toyota Camry will have a slightly updated body with a longer nose, the same shortened tail, and an all-new hood to allow for better visibility. The length of the car will grow very slightly as well, but its width will remain unchanged. In total, we expect this to be only a minor update that'll bring it in line with other vehicles on the market while maintaining its unique look.
The interior will get the bulk of the changes, and it'll still compare to most other vehicles on the market. Toyota promises it'll be more ergonomic than ever, with better seat comfort and more ingenious features for the dashboard. This means better torque sensors on the steering wheel, intelligent devices for keeping up with new music and news, and even more emphasis on advanced safety features. These should help keep drivers aware of their surroundings without distracting them too much from their driving tasks.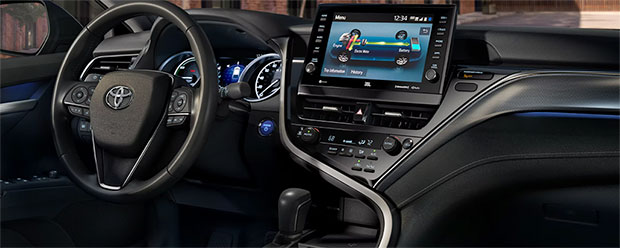 How Much Horsepower Does the 2023 Camry Have?
One of the biggest concerns Toyota seems to have had was delivering increased horsepower and torque, a major driving force behind this vehicle's appeal. However, they might have a problem as they'll be working with the same 2.5L, 4-cylinder engine that's been in use since 2011. Toyota has yet to decide precisely how they will fix this issue, but at first, they don't seem to have any easy way out.
What Safety Features Does the 2023 Camry Include?The two most important features that Toyota promises 2023 will have are an advanced safety system called Proximity Alert and Pre-Collision System with Pedestrian Detection.
The Proximity Alert is designed to help prevent accidents with vehicles and pedestrians by disrupting the driver's attention. It does this by using cameras to detect objects outside of the car and a series of built-in sensors that detect when passengers in the car have moved closer to the doors. It also has a unique feature for detecting when a tired driver begins to nod off, which can be especially dangerous on the highway or on a long trip where you have time to doze off.
The Pre-Collision System with Pedestrian Detection is another safety feature that's used to help protect the driver and passengers. This uses the same cameras built into the Toyota Camry's Proximity Alert system to detect when a pedestrian may cross in front of the vehicle, allowing for braking before impact.
To conclude, to make the 2023 Toyota Camry even better than its predecessors, Toyota promises a lot of technology, comfort, and safety options. For more information, you can visit our dealership in Springfield.
Sorry, we do not currently have any featured inventory on our website.
Please call 844-872-4545 for further assistance.