Toyota Yaris Review for 2016 Model Year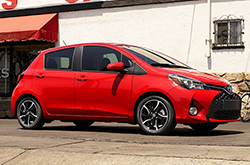 The 2016 Toyota Yaris is virtually the same coming into the new model year. It still features a quiet cabin, a roomy interior that accommodates up to five passengers and an available navigation system. As always, the subcompact model is still the only car in its class to offer both three- and five-door variants in order to benefit drivers with different needs. While most components on the car are unchanged for 2016, the Yaris does offer two new color combinations that also improve its overall appearance and pay homage to its European roots. Take a look at our 2016 Toyota Yaris review to find out more details about the new Yaris model and its incredible features.
Generating 106 horsepower and 103 lb.-ft. of torque, a 1.5L four-cylinder engine is outfitted on the 2016 Toyota Yaris in Springfield. The powerplant can be paired with either a four-speed automatic or five-speed manual transmission, which each supports its power offerings. All model equipped with the automatic transmission produce an EPA-estimated 32 mpg combined, 30 city and 36 highway, while manual models deliver 33 mpg combined, 30 city and 37 highway. Due these incredible numbers, the Yaris is considered one of the most fuel-efficient options in its class and must-have for buyers in search of a reliable subcompact vehicle.
The only change made to the 2016 Toyota Yaris in Springfield is the addition of two new color combo offerings. For the first time ever, buyers can get the Yaris with a Black Sand Pearl roof and Crushed Ice combo or a Black Sand Pearl roof and Barcelona combo. These new color combo options are a nod to the Yaris' European heritage and add a little bit of flair to the small vehicle, enticing new car buyers.
If you'd like to acquire further info about the Yaris and its features, continues reading our 2016 Toyota Yaris review below.