Springfield Highlander Research on the 2015 Toyota Model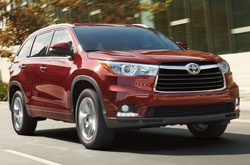 The versatile Toyota Highlander has landed back on the market for 2015 offering buyers an exceptional amount of great amenities to take advantage of. Both the standard 2015 Toyota Highlander and the Highlander Hybrid come with excellent powertrains that are efficient and provide optimal power. In addition to these first-class components, the SUV sports an ample helping of innovative technology features on all models. Read our detailed 2015 Toyota Highlander review below to acquire knowledge about these outstanding features and others offered on the latest model.

One of the top amenities parents will enjoy on the 2015 Toyota Highlander in Springfield is the Driver Easy Speak system. This unique program lets drivers talk to backseat passengers using a mic that plays their voice through the car's speakers. By utilizing this component, parents can now easily communicate with their children in the backseat without yelling, which is beneficial during family road trips. On top of this fantastic feature, the Highlander XLE model is available with other great technologies, such as Entune Audio, Bluetooth, push-button start and an eight-way adjustable driver's seat. The top-of-the-line trim comes with a stunning moonroof as well that is perfect to use on warm days.

Offered with either a four-cylinder or V-6 engine, the standard 2015 Toyota Highlander in Springfield provides top-notch performance. The 2.7L four-cylinder delivers 185 horsepower, while the 3.5L V-6 outputs 270 horsepower. Both variants are supported by a six-speed automatic transmission that produces incredible fuel economy ratings. However, if you want the best of the best in fuel economy, the Highlander Hybrid is the number one choice. It features a hybrid system that is equipped with a 3.5L V-6, exerting 280 horsepower, which has the ability to deliver an EPA-estimated 28 mpg combined, 27 city and 28 highway.

If you're interested in finding out more info on the Highlander's powertrains and features, continue browsing our 2015 Toyota Highlander review.