Quality Toyota Venza Research From Reliable Toyota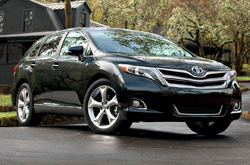 The 2014 Toyota Venza Wagon is the minivan for a new era. Packed with modern technology, remarkable handling, and an accommodating cabin, the new Venza combines the stance of an SUV with the capacity of a full-size van.
With its generous interior cargo space, the 2014 Venza Wagon is the ultimate people mover. Ample room for 5 and an impressive 70 cubic feet of storage ensure you can pack the whole family without sacrificing comfort or strapping grandma to the roof.
Economical yet powerful, the Venza offers a responsive 3.5-Liter V6 engine that allows the Venza to tow up to 3500 pounds, while reaching an EPA estimated 22 MPG (combined). Factor in their advanced safety technology, and the Venza delivers a truly well-rounded ride. Continue reading our 2014 Toyota Venza review below for more details.