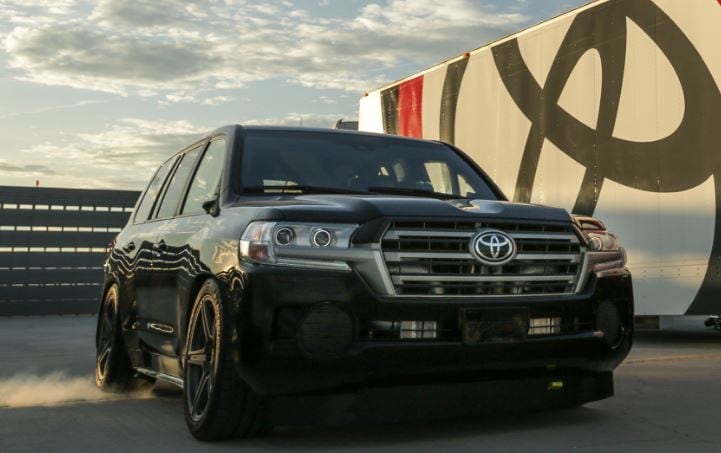 With so many SUV options on the market, it can be difficult to decide which one is the best choice for you and your family. However, if you value high-powered engine options and top-of-the-line amenities, you should consider the new Land Cruiser. Recently, the longtime family favorite achieved the title of "World's Fast SUV," thanks to a mind-blowing model that can generate up to 2,000 horsepower (Yes, 2,000).
Reaching a max speed of 230.02 miles per hour, former Toyota NASCAR driver Carl Edwards pushed the modified SUV to its limits to achieve the amazing feat. A 5.7-liter V8 powerplant was utilized in the Land Cruiser. To give it even more power, Garrett turbos, new rods and pistons, and a unique intake manifold were added to the engine. In addition, a special drivetrain was matched to the monstrous motor. Other alterations included sport tires and frame modifications that made the vehicle more aerodynamic.
When all the customizations were finished, the team was ready to make history. The team drove the Land Cruiser to the Mojave Air and Space Port in Mojave, California. Edwards put the pedal to the metal, making it look almost easy to reach mind-blowing speeds.
"At 225 mph, the thing was wandering a little bit. All I could think was that Craig [Stanton] said, 'No matter what, just keep your foot in it,' and we got 230 mph," Edwards recounted from behind a huge grin after setting the record. "It's safe to say that this is the fastest SUV on the planet."
See what the well-equipped 2017 Toyota Land Cruiser has in store for you today at Reliable Toyota.