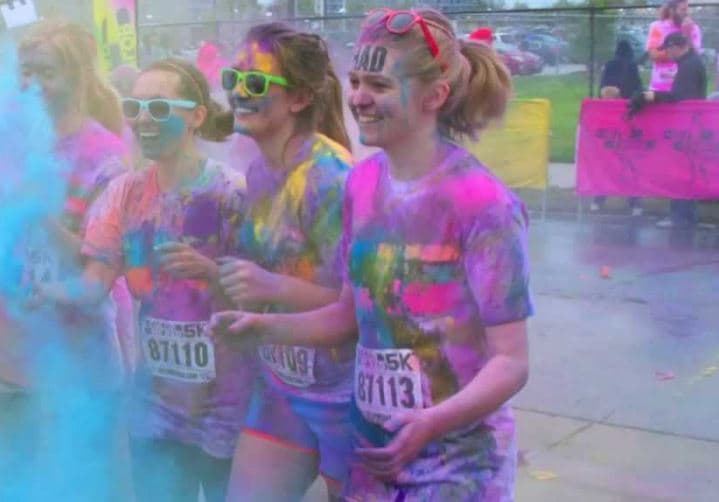 The Color Run Dream World Tour is coming to the Springfield Expo Center on Saturday, April 22. Known as "The Happiest 5K on the Planet," the Color Run is about having fun and the Dream World Tour ramps it up with new features.
The Color Run was founded in 2011 with the idea of bringing people together for an exciting 5K that focuses more on making the world a happier and healthier place, rather than competition or how fast you can run. It also wants to provide a unique experience for the participants. The Color Run made its name by dousing runners with powder paint throughout the course, finishing with a colorful post 5K party with music, dancing and even more paint.
The Dream World Tour adds more elements of color and fun. These include the Foam Zone, where participants run through a sea of fluffy, colored foam, new powder colors in the Color Zone, and the Dream Wall where runners can paint their aspirations. This new theme relates to the Color Run's goals of promoting individuality, happiness and health.
To promote these ideals and bring goodwill to the communities that host the event, the Color Run partners with local non-profit organizations. For our city's event, the Color Run is partnering with the Equi-Librium Therapy Center; an organization that provides services such as therapeutic horseback riding.
Have a blast and help the community at this year's Color Run. The whole family can enjoy this unique run. For more information, please visit the official website.
The Color Run Dream World Tour
When: Saturday, April 22, 2017
The starting line opens at 9 a.m. with waves starting every few minutes until 9:45 a.m.
Where:
Springfield Expo Center
635 E St. Louis
Springfield, MO 65806
Registration: Single Runner: $44.99
Teams (4+ participants): $39.99 per runner